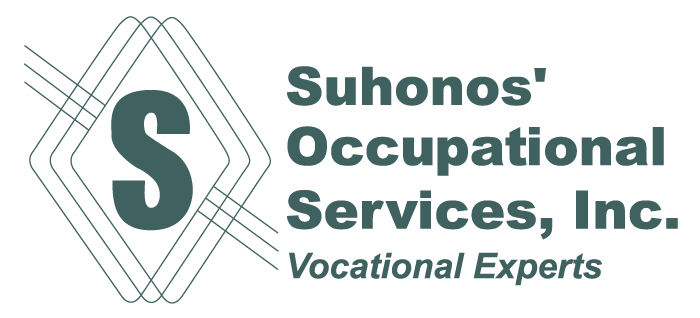 Our practice specializes in
Forensic Vocational Rehabilitation-when a Vocational Expert applies rehabilitation principles to Law- and in Vocational Expert Testimony services in the areas of Workers' Compensation, Personal Injury, Employment Discrimination, and Family Law.
Our practice has extensive history consulting with private and public employers and facilitating compliance with state and federal disability statutes. We are dedicated to working with our clients to find vocational solutions to complex occupational problems.
At Suhonos' Occupational Services, Inc., our mission is to assist in the resolution of vocational disruption by offering comprehensive evaluations, job market assessments, and determination of earning capacity.
Our approach focuses on delivering professional and ethical work, while adhering to well- founded academic principles based on peer-reviewed, published, standardized methodologies used in the field of Vocational Rehabilitation. Our practice specializes in thorough consultative processes that lead to the delivery of objective expert opinions.
Consulting and Expert Witness services
Suhonos' Occupational Services, Inc. offers a variety of Consulting and Expert Witness services to assist the client in reaching a comprehensive understanding of the vocational issues. We render sound opinions, supported by data, to facilitate prompt resolution of the matter through settlement or by a trier-of-fact making a final determination in court.
Our services are tailored towards each of our client's individual and vocational needs. Each vocational opinion considers the legal criteria and vocational principles applicable to the individual's case history, while factoring in labor market changes, occupational requirements and accommodations, and impacts of injury on earning capacity. Rehabilitation evaluations may be completed as part of a comprehensive counseling approach or in a forensic setting.
Our services are retained by Attorneys, Insurance companies, Private and Public Sector Employers, Governmental Agencies, and individuals involved in litigated matters.
Vocational Rehabilitation Evaluation Services
Vocational Rehabilitation Services and Vocational Evaluation Services assist individuals in returning to work in suitable, competitive employment. Our evaluations address the medical/psychiatric diagnosed conditions' residuals and its impact on the individual's ability to be competitively employed in the open labor market. Services include: Rehabilitation Counseling, Vocational Assessment & Evaluation, Psychometric Testing, Ergonomic Evaluations, Transferable Skills Analysis, Job Placement Assessment, Earning Capacity Analysis.
Vocational Expert Testimony Services
Vocational Expert Witness Testimony services apply Forensic Rehabilitation principles to Law. Vocational Rehabilitation Consultants are most often called upon as Vocational Experts to independently evaluate individuals in litigation matters, and establish economic damages and provide testimony. Vocational Experts are used to assessing the impact of an injury or illness on a person's wage earning potential and to provide an objective viewpoint of the reality of the case from a forensic perspective.
Vocational Consulting Services
Our Vocational Consulting Services are multi-faceted and tailored upon the needs of the referring party. Services are available for litigated and non-litigated matters, and we specialize in rendering recommendations and implementation of corrective actions. Consulting Services are retained to gain a deeper understanding of the vocational process and to strategically work with the vocational facts of the case to determine reliable and valid recommendations.
Our consulting services can assist with pre-employment and post-employment issues, such as Wrongful Termination and Employment Discrimination. Services address issues of compliance with State and Federal disability statutes, and assess the Interactive Process, Determination of Essential Functions of a job, Reasonable Accommodation, and Discrimination factors.
Seminar Development and Presentations
Our educational Seminar Development and Presentations are focused on highlighting Vocational Rehabilitation principles and it's interaction in the world of work and with legislative mandates. Professional association seminars and presentations are customized and tailored to the field and subject matter.
Expert Witness Services
Expert Witness Services utilize the Vocational Expert in a court of law to assess and determine an individual's work and earning potential. As Board Certified Vocational Experts, we are qualified to assist legal counsel with Expert Testimony in the field of Forensic Vocational Rehabilitation and in conjunction with the specific case law criteria for the litigated venue. Our practice offers a variety of Vocational Expert Witness services to assist in the following legal venues:
Civil Litigation/Personal Injury
Employment Law/ Employment Discrimination
Wrongful Termination
Family Law / Marriage Dissolution
Workers' Compensation
Social Security Administration/Office of Disability Adjudication Review
Veteran's Administration & Retirement Boards
Vocational Expert, the Underutilized Resource
(2006).Family Law News,Issue 2 Vol 26, No. 2. California State Bar Family Law Section
Getting the Most Out of Your Vocational Expert: Almaraz/Guzman & Ogilvie
(2010) Workers Compensation Quarterly, Volume 23, No. 2. California State Bar Workers Compensation Section
The Quick Desk Reference for the Forensic Rehabilitation Consultant
Contributor, Second Edition (2012). Elliott & Fitzpatrick, Athens, GA.
S.O.S., Inc. IS HERE FOR YOU!
Make sure to get in touch with us today about any of our services that we offer.  Our Staff has 75 years of combined experience and will make sure that your needs are met. Each client is unique with their needs and we will find just the right solution for you.
Get in touch with Us today.
Call to discuss how Suhonos' Occupational Services, Inc. can address you and your client's vocational needs today.
Business Address:
Main Office
555 University Ave. Suite 114
Sacramento, CA 95825

Corporate Office
680 W Nye Lane
Suite 202
Carson City, NV 89703
Hours: Mon ­- Fri 9am -­ 5pm